Kiroyera Beach & Leisure Site
Kiroyera Beach, Leisure & Campsite
"Experience Africa in the most beautiful and relaxing setting!"
Kiroyera Tours owns and runs the Kiroyera Beach, Leisure and Campsite.
Located on the beautiful shores of Lake Victoria, it is just a few minutes drive from the harbour, airport and Bukoba town centre.
A warm welcome awaits all visitors!
Onsite experiences available for visitors:-
Overnight in a Traditional Banda
Our beach-huts or "mushonge" (as we say in our native tongue), are built by local craftsmen using traditional skills and materials sourced in the Kagera region. They offer visitors a unique African experience, with a touch of western comfort. One of our bandas has hot running water, a flushing toilet and soft double bed.
We have 4 Banda's on our beach, which each cater for 2 person's at USD $10 per person per night.
Camp beside the beautiful and iconic Lake Victoria
The magical Lake Victoria is Africa's largest lake and the largest tropical lake in the world!
We can rent you a tent for the evening, or a space to pitch your own tent/camper van, from where you can enjoy the spectacular lake sunsets and sunrises that make a stay with us so memorable.
From just USD$4.00 per person.
Dine at our lakeside Restaurant & Bar
Unwind with a choice of traditional and international dishes at our beach Restaurant and Bar.
Our cook serves a range of freshly prepared meals and snacks including fresh fish from Lake Victoria, BBQ chicken and locally grown fruit and vegetables.
Our bar is open daily offering a wide assortment of chilled drinks and refreshing cold Tanzanian beer!
Discover Lake Victoria on a private Boat Safari
We have our own boat to take visitors on a very special Lake Safari.
It takes just 20 minutes to reach Musila island, where you can visit the local fishing community and even try to catch your own using traditional bamboo fishing rods – on your return our cook will even prepare it for you to eat for supper!
Play beach volleyball and relax beside a campfire at sunset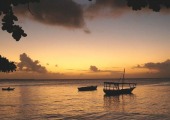 Every evening just before sunset we play beach volleyball. As our guest you are welcome to join in or else you can unwind in a beach hammock with a book from our travellers library.
Whilst staying with us you can enjoy evenings beside our campfire watching the lights of the fishermen of Musila island out on the water; and mornings admiring the stunning lake sunrise.
BEACH CAMPING PRICE LIST
Note mandatory additional Government Tax: Bed levy USD$1.50 per bed per night
TRADITIONAL BANDAS: TSH. 20,000/ per person per night (USD$ 10.00)
CAMPING IN OWN TENT: TSH. 8,000/ (USD$ 5.00)
CAMPING IN KIROYERA TENT: TSH. 15,000/ (USD$ 10.00)
VEHICLE PARKING: TSH 8,000/ (USD$ 5.00)
SLEEPING IN OWN VEHICLE: TSH 16,000/ (USD$10.00)
EXTRA PERSON IN VEHICLE: TSH 5,000/per person per night
NOTE: Add bed Levy to the price
Safe and secure parking for all visitors.
Please contact us below to make a booking or request more information.
[button url="https://kiroyeratours.com/contact/" size="medium"]Contact Us[/button]